Lesmodulen
Uit welke Modulen en Onderwerpen bestaat de Masterclass?
Lees hier de inhoud van de EA masterclass:
Module 1 - Introduction Visual Enterprise Architecture
Vision on Enterprise Architecture as Total Concept
Vision on Program and Project Management
Module 2 - Core Concepts
Core Glossary of Terms
Enterprise Architecture Meta Model
Module 3 - Architecture Visualization
Viewpoints, Views and Visualization
Types of Visualization
Module 4 - Architecture Principles
Discovering, Formulating, Visualizing and Applying Principles and Standards
Types of Principles
Module 5 - Transformation
Architecture in Projects
Portfolio Management
Solution Architectures
Module 6 - Design Basics
Concept Design
Critical Thinking & Design Thinking
Ideation
Solution Design
Module 7 - Business Modeling
Dragon1 Modeling Language
Modeling Business Models
Modeling Business Functions and Business Processes
Modeling Business Capabilities
Module 8 - Information Systems Modeling
Dragon1 Modeling Language
Modeling Information Systems
Modeling Applications
Modeling Data
Modeling Services
Module 9 - Strategy
Strategy Development
Innovation Management
Policy Management
Module 10 - Business Cases
Business Cases
Quality Management and Quality Model
Requirements Management and Engineering
Module 11 - Architecture Processes
Governance Process
Management Process
Maintenance Process
Building Process
The Architecture Code
Module 12 - Communication
Communication Process (Presenting & Convincing)
Collaboration: Stakeholder Involvement
Alignment met andere Architectuurraamwerken en Modelleertalen
Als een organisatie al voor een methode, modelleertaal of raamwerk heeft gekozen als interne standaard(en) voor werken onder architectuur, of zelf een referentie architectuur heeft opgesteld, dan passen we, indien gewenst, de inhoud van deze masterclass EA hierop aan.
Veel organisaties hebben bijvoorbeeld TOGAF of ArchiMate als interne standaarden gekozen. Echter TOGAF is een globaal raamwerk en geen methode. Daarom vult u met de Dragon1 methode het TOGAF raamwerk aan met een praktische wijze van werken onder enterprise architectuur.
De ArchiMate modelleertaal richt zich op modelleren en niet op het visualiseren van architectuur. Dragon1 biedt u beiden: een aanvulling op ArchiMate in de vorm van een visualisatie taal én een optionele vervanging en uitbreiding van de modelleertaal.
(TOGAF en ArchiMate zijn merken van de Open Group, Dragon1 is een merk van Dragon1 Inc., Dragon1 is erkend door de Open Group als methode voor Enterprise Architectuur.)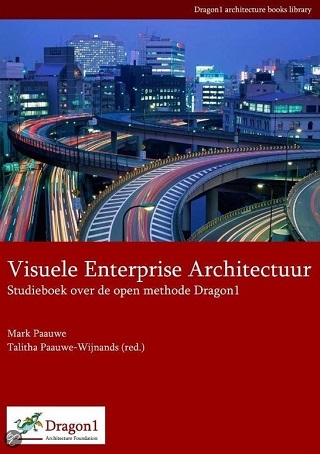 Dragon1 Textbook on Visual Enterprise Architecture