Masterclass Visual Enterprise Architecture
Register for the Dragon1 Masterclass Visual Enterprise Architecture online/eLearning, onsite or in Wageningen, The Netherlands: Register here or contact the Dragon1 Academy: academy@dragon1.com.
Start date MSC2023 #04: September 22, 2023, 8 seats are available.
Dragon1 Enterprise Architecture Blueprint©
Reasons to Attend this Enterprise Architecture Masterclass
This Masterclass is aimed at developing the EA competency of the Medior and Experienced Enterprise Architect, Business Architect, Security Architect, Information Architect and IT Architect
Increase the Value of EA

You'll learn to make it visible and tangible how to reduce IT costs, improve processes, standardize technology, mitigate project risks and derive architecture from strategy.

Communicate Architecture Insights and Overviews Effectively

Of course you know how to draw an architecture diagram. But what does it take to get the insights and overviews across?

Visualize Architecture Principles For More Effect and Impact

You will learn to visualize Architecture Principles as working mechanisms. This makes them more effective and analyzable.

Create Modern Business Architecture Visualizations and Lean Products

You will learn to create Customer Journey Maps, Business Capabilities Maps, Agile Storyboards, Fuzzy Cognitive Maps and more.

Answer the Growing Demand by the Business for New Technologies

You will learn how to deal with Agile, IoT, Blockchain and AI / Chatbots. You can visualize and embed the concepts so they work.

Design and Visualize Architecture For Change and Transformation

You will learn how to make sure management and directors use your products to measure, monitor and govern change and transformation: Plan, Do, Check, Act!
Why a Masterclass on Visual Enterprise Architecture?
Many organizations today are faced with massive simultaneous transformations. In the area of products, services, processes, applications and IT systems, often everything is turned upside down due to a new vision or strategy.
Examples of this new vision and strategy are: Artificial Intelligence (AI), Blockchain, Digitization, Phase Out Fossil Fuel, Smart Cities, GDPR (AVG), Business Ecosystem, Agile and IoT.
Enterprise Architecture is a wonderful way of thinking and working for managing simultaneous changes in the right direction. We call that: Leading Transformation.
What is a better approach than to communicate and steer with Enterprise Architecture, the set of necessary concepts, principles and standards for transformation, through visualizations?
In this master class, everyone from the director to the programmer learns exactly what Visual Enterprise Architecture is and how you can use this in your own organization in addition to how you work now.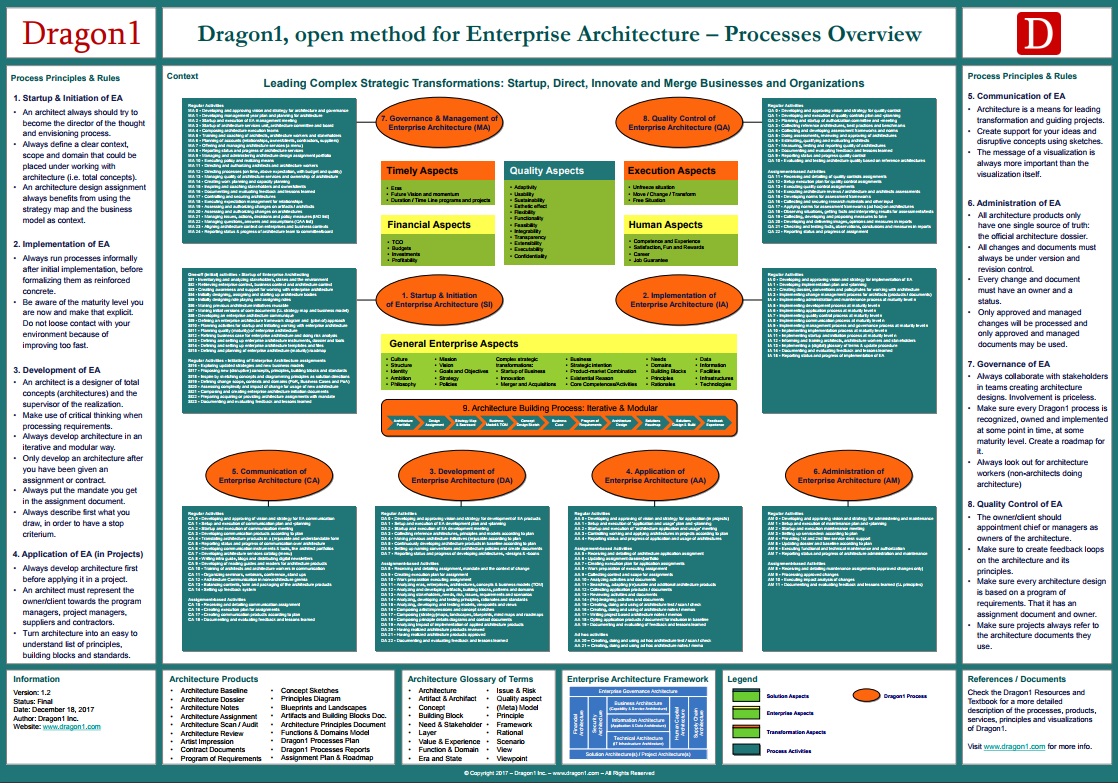 Dragon1 Method Processes Overview©
About the Dragon1 Masterclass
Dragon1 organizes this masterclass course with continuous open registration. For the exclusive master class, there are 8 places per class. The program has a modular structure.
You follow 12 modules over 12 days, carefully selected on the basis of best practices.
Each module lasts 4 hours and consists of a combination of theory, provided by a subject teacher, and best practices, in the form of a practical assignment.
During this Masterclass, standards such as BPMN, UML, TOGAF and ArchiMate will also be discussed and their relationship with the Dragon1 method for Enterprise Architecture.
Do you have reference Architectures such as NORA, GEMMA or HORA in your work? Or does your organization have its own Reference Architecture? Then we would like to pay attention to this, how you and others can use it effectively in the work.
After this enterprise architecture training you will have a good overview of the course Enterprise Architecture and you will be able to assess architecture products and work on the completion of architecture products.
This training is of added value for every architect: for senior architects a refresher course and for junior architects the chance to get better at the job.
Are you an enterprise architect, business architect, information architect, technical architect, security architect or solution architect? Then in this Masterclass, we have special attention in the form of focused theory and assignments.
Read more about the Dragon1 Method op Wikipedia
Practical Exercises with an EA SaaS Platform
During the master class you are provided with access to Dragon1, the SaaS platform for Enterprise Architecture.
For instance, you will be using the platform to design and visualize your own solution architecture for a concept in your organization.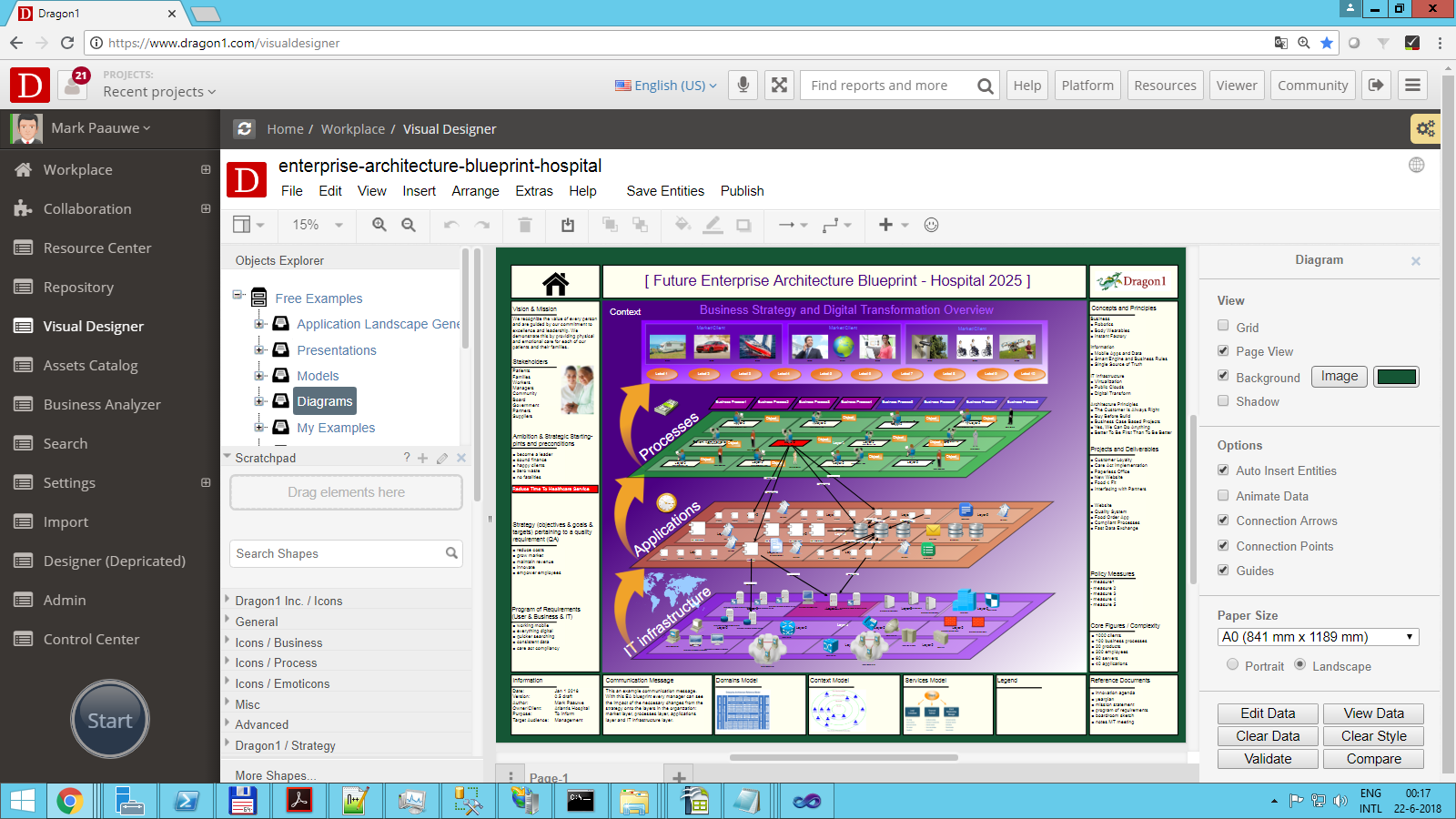 Brand New Topics
This year, we have added the following topics to the masterclass:
AI and Intelligent Chatbots: how to embed the concepts in architecture and what are the ethical issues?
Agile and Architecture: how to have them work together
IoT and Blockchain: what strategic options do they enable?
Business Architecture: finally EA has stepped out of the IT world and into the world of business capabilities.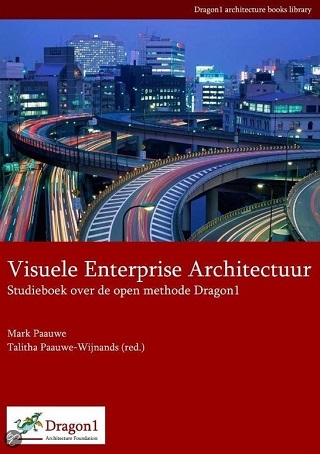 Dragon1 Textbook on Visual Enterprise Architecture