Course Modules
What Modules and Lessons are part of this Masterclass?
Read the full contents of the EA masterclass here:
Module 1 - Introduction Visual Enterprise Architecture
Vision on Enterprise Architecture as Total Concept
Vision on Program and Project Management
Module 2 - Core Concepts
Core Glossary of Terms
Enterprise Architecture Meta Model
Module 3 - Architecture Visualization
Viewpoints, Views and Visualization
Types of Visualization
Module 4 - Architecture Principles
Discovering, Formulating, Visualizing and Applying Principles and Standards
Types of Principles
Module 5 - Transformation
Architecture in Projects
Portfolio Management
Solution Architectures
Module 6 - Design Basics
Concept Design
Critical Thinking & Design Thinking
Ideation
Solution Design
Module 7 - Business Modeling
Dragon1 Modeling Language
Modeling Business Models
Modeling Business Functions and Business Processes
Modeling Business Capabilities
Module 8 - Information Systems Modeling
Dragon1 Modeling Language
Modeling Information Systems
Modeling Applications
Modeling Data
Modeling Services
Module 9 - Strategy
Strategy Development
Innovation Management
Policy Management
Module 10 - Business Cases
Business Cases
Quality Management and Quality Model
Requirements Management and Engineering
Module 11 - Architecture Processes
Governance Process
Management Process
Maintenance Process
Building Process
The Architecture Code
Module 12 - Communication
Communication Process (Presenting & Convincing)
Collaboration: Stakeholder Involvement
Alignment with other Architectural frameworks and Modeling languages ​
If an organization already has adopted a method, modeling language or framework as internal standard(s) for working with Enterprise Architecture, or has created an architecture reference itself, we will adjust the content of this masterclass EA accordingly.
Some organizations have adopted for example TOGAF or ArchiMate as internal standards as part of working with architecture. However, TOGAF is a global framework and not a method. That is why with the Dragon1 method you complement the TOGAF framework with a practical way of working with Enterprise Architecture.
The ArchiMate modeling language focuses on modeling and not on visualizing Architecture. Dragon1 offers both: an addition to ArchiMate in the form of a visualization language and an optional replacement and extension of the modeling language.
(TOGAF and ArchiMate are brands of the Open Group, Dragon1 is a trademark of Dragon1 Inc., Dragon1 is recognized by the Open Group as a method for Enterprise Architecture.)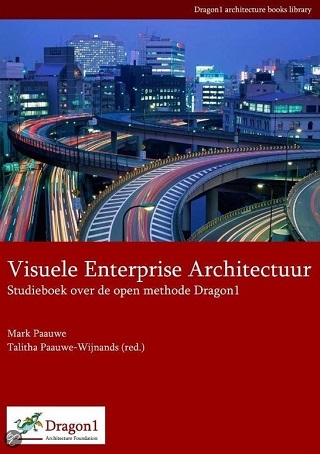 Dragon1 Textbook on Visual Enterprise Architecture