Process Landscapes are diagrams and dashboards of essential value that present a strategic overview of business processes, capabilities and roles.
Using Dragon1, you can generate a visualization like this easily and quickly using the process landscape template, an excel sheet or any other repository with your data. Dragon1 makes sure you can put all your time into collecting high-quality data as input for the visualization, resulting in great analysis.
Above you see an interactive example of a generated Process Landscape in the Viewer.
You can also have such a generated Process Landscape by doing the Dragon1 demos.
We have provided a Visualization Template and Excel Sheet you can use to generate your own Process Landscape with on Dragon1.
The round trip demo you can do here, consists of 5 steps:
1. You download the Excel Sheet and edit it with your data
2. You convert the Excel Sheet into a .dragon1 File (JSON Structured)
3. You upload the .dragon1 File in the Viewer and check out the generated diagram with its dashboard and manage your transformation in your company using the diagram and the dashboard.
4. You edit the process diagram by putting the Viewer in Edit mode and dragging some shapes onto the canvas.
5. You export the data to an excel sheet and view the changes in MS Excel.
Example Process Mapping
Below you see a screenshot of a typical process landscape that can be generated in minutes on Dragon1 from any repository or excel sheet.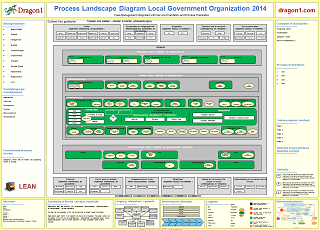 More and more organizations want to have an overview and insights into how their processes are structured, organized and collaborate. This helps them to support decision-making and make the company work more efficiently and effectively.
For instance in an ERP solution like SAP there is a lot of data available on roles and activities, but that data is not often visible as a processes diagram.
Use this Dragon1 Process Mapping template to:
Generate processes overviews and details from a data repository like SAP
Understand and communicate the Process Architecture of the organization better
Plan the implementation of LEAN principles
Optimize and improve processes
Improve data exchange between processes
This template supports you with generating various views on your process architecture, like a Strategic Process Mapping Planning view, but also a key HR competencies view and business capabilities view.
Need Support or eLearning?
Do you want extra support or an eLearning training course in generating and mapping a process landscape?
Please contact us by send an email to sales@dragon1.com.