Download Template (.dragon1 File)
Upload & View .dragon1 File
Convert .CSV to .dragon1
Edit Template
Data Lake
A data lake is a system or repository of data, where the data is stored in its original (raw) format. Usually this is in the form of files.
Often a data lake is a single store of all enterprise data including raw copies of source system data and transformed data used for tasks such as reporting, visualization, advanced analytics and machine learning
Data lakes can contains structured data from relational databases (in rows and columns or object oriented nodes) or semi-structured data (such as XML, JSON, CSV and logs) or any unstructured data (like PDFs, documents and email) and also binary data
Data Lake Solution Architecture
Another way of visualizing a data lake is doen her below.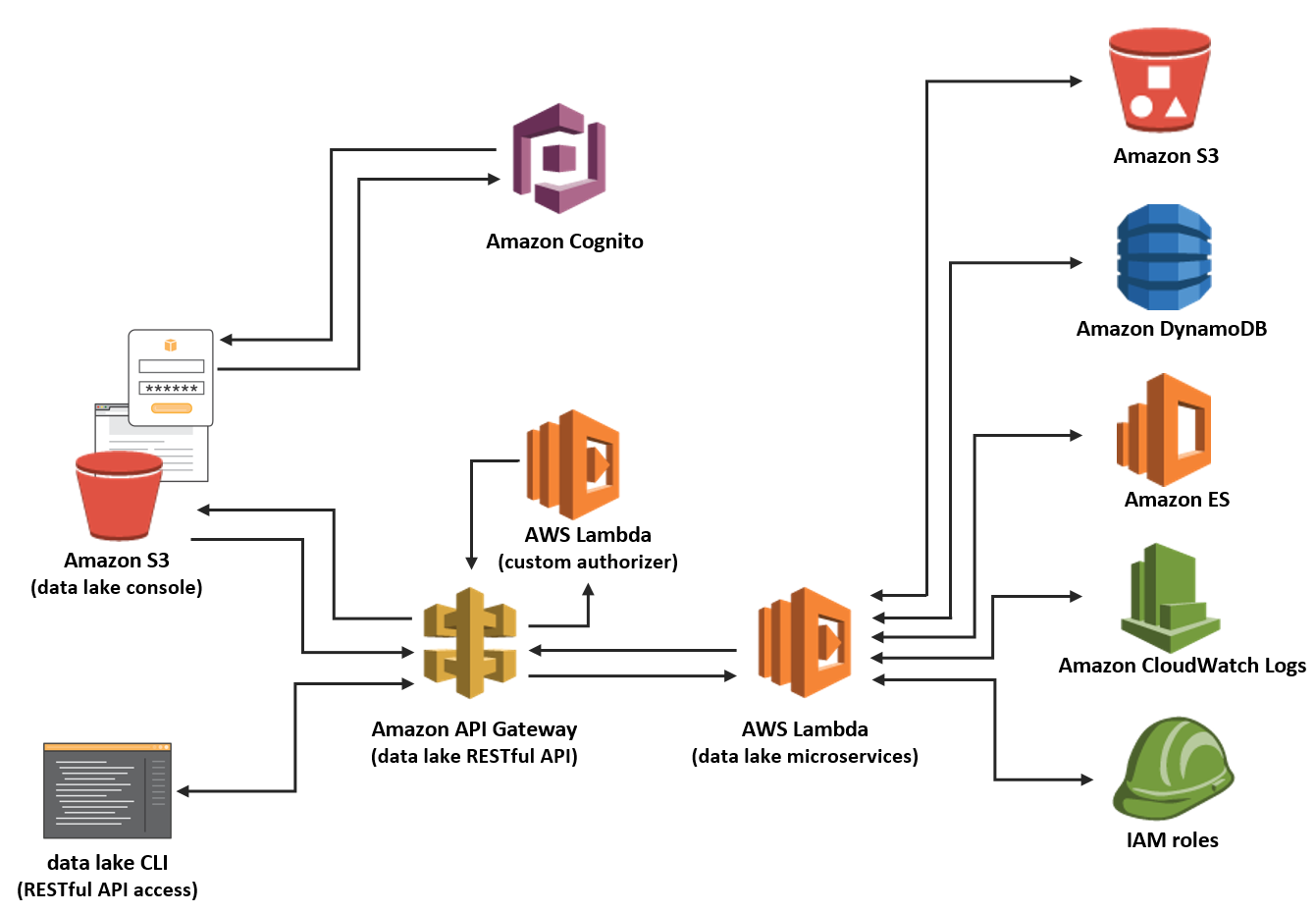 Data Lake


<!-- HTML -->
<!-- Styles -->
<!-- NOTE: Use the button above to download the full example. -->

<style >
body {background-color:white}
#diagramdiv {
  width: 100%;
  max-width:1200px;
  height: 700px;
  margin:auto;
  margin-top:50px;
  margin-bottom:50px;
}
</style>

<!-- Resources -->
<link type="text/css" rel="Stylesheet" href="https://www.dragon1.com/lib/5/dragon1.css" />

<script src="https://www.dragon1.com/lib/5/jquery.js"></script>
<script src="https://www.dragon1.com/lib/5/dragon1core.js"></script>
<script src="https://www.dragon1.com/lib/5/dragon1diagrams.js"></script>
<script src="https://www.dragon1.com/lib/5/dragon1animated.js"></script>
<script src="https://www.dragon1.com/lib/5/theme-chooser.js"></script>
<!-- Chart code -->

<script >

  dragon1core.ready(function () {

        // Themes begin
        dragon1core.useTheme(dragon1core_animated);
        dragon1core.colorScheme = dragon1core_defaultcolors;
        // Themes end

        var diagram = dragon1core.create("diagramdiv", dragon1core.Process_Application_Landscape_Map, "Dragon1 Process Application Landscape");
        diagram.userdatalocal = 'yes';
        diagram.opacity = 0; // this creates initial fade-in
        diagram.layout = LAYOUT_TWO_BY_THREE_PLUS_BARS; // 1 half height layer and 2 fullheight layers

      diagram.data = [{ "class": "Visualization",
        "id": "01",
        "name": "Process Application Landscape",
        "title": "Process Application Landscape",
        "team": "The Archi Team",
        "logo": "/images/dragon1-logo.png",
        "template": "Process_Application_Landscape_Map",
        "typology": "LAYOUT_THREE_LAYERS_BASIC_WITH_BORDER",
        "blocks": { "label1": "Architecture Concepts", "label2": "Business Processes", "label3": "Applications" }
    },
    { "class":"Domain",
         "id":"01",
         "name":"Enterprise Wide",
         "descr": "This is the complete enterprise",
         "owner": "Mr Gupta",
         "responsbilities": "Coherence in enterprise solutions",         
         "show": "all" /* all will show all objects of all domains on click */
          },
        { "class": "Domain",
            "id": "02",
            "name": "Corporate domain",
            "descr":"This is the corporate domain",
            "owner":"Mrs VanderBildt",
            "responsbilities": "Coherence in governance solutions",
            "show":"yes" /* no will hide the objects of this  domain on startup*/
        },
        { "class": "Stakeholder",
            "domain": "02",
            "type": "Internal",
            "responsibilities": "Finance",
            "name": "Mrs. Vanderbildt",
            "id": "01",
            "image": "https://www.dragon1.com/img/avatars/2.png",
            "descr": "Hello, I am Mrs. Vanderbildt. I work already for 12 years at this company.",
            "startdate": "01 mar 2014",
            "enddate": "01 jun 2021",
            "link": "https://www.dragon1.com/images/customer-journey-map-1.png",
            "linktitle": "CV",
            "datastatus": "approved",
            "datasource": "System X"
        },
      
        { "class": "Goal",
            "name": "GOAL 1 - Handling personal data safer",
            "descr": "The goal is to handle personal data safer.",
            "owner": "",
            "startdate": "01 mar 2010",
            "enddate": "01 jun 2020",
            "id": "01",
            "budget": "",
            "deadline": "5 jan 2020",
            "datastatus": "approved",
            "link": "https://www.dragon1.com/images/customer-journey-map-1.png"
        },
        { "class": "Concept",
            "name": "Reuse",
            "image": "https://www.dragon1.com/images/concept-reuse.png",
            "descr": "By reusing solutions, average cost is decreased.",
            "id": "01",
            "domain": "02",
            "implementationcosts": "720.000 USD",
            "startdate": "01 mar 2020",
            "enddate": "01 jun 2050",
            "link": "https://www.dragon1.com/images/customer-journey-map-1.png",
            "linkimage": "",
            "linktitle": "Artist Impression",
            "documented": "undocumented",
            "datastatus": "proposed",
            "datasource": ""
        },
          { "class": "Change",
              "id": "03",
              "change":
                { "class": "Concept",
                    "name": "Customer Satisfaction Sales",
                    "descr": "We are going to do Customer Satisfaction Based Sales",
                    "id": "02",
                    "startdate": "01 mar 2019",
                    "enddate": "01 jun 2050",
                    "implementationcosts": "450.000 USD",
                    "link": "https://www.dragon1.com/images/customer-journey-map-1.png",
                    "linkimage": "",
                    "linktitle": "Concept Sketch",
                    "link2": "https://www.dragon1.com/images/customer-journey-map-1.png",
                    "link2image": "",
                    "link2title": "Functional Diagram",
                    "link3": "https://www.dragon1.com/images/customer-journey-map-1.png",
                    "link3image": "",
                    "link3title": "Technical Diagram",
                    "documented": "documented",
                    "datastatus": "approved",
                    "datasource": "system G"
                }
          },
        { "class": "Principle",
            "name": "Reusing is cheaper than buying",
            "descr": "By reusing solutions, average cost is decreased.",
            "id": "01",
            "domain": "02",
            "startdate": "01 mar 2020",
            "enddate": "01 jun 2050",
            "concept": "Reuse before Buy",
            "link": "https://www.dragon1.com/images/customer-journey-map-1.png",
            "linktitle": "Principle Details Diagram",
            "datastatus": "approved",
            "datasource": "system C"
        },
        { "class": "Change",
        "id":"04",
        "change":
        { "class": "Principle",
            "name": "Satisfying client pays off financially",
            "descr": "Happy and satisfied clients are more likely to buy more and refer more often.",
            "id": "02",
            "domain": "03",
            "concept": "Customer Satisfaction Sales",
            "startdate": "01 mar 2019",
            "enddate": "01 jun 2050",
            "link": "https://www.dragon1.com/images/customer-journey-map-1.png",
            "linktitle": "Principle Details Diagram",
            "datastatus": "approved",
            "datasource": "system C"
        }
        },
        { "class": "Standard",
            "name": "ISO 140001 (Environmental)",
            "id": "03",
            "domain": "03",
            "startdate": "01 mar 2021",
            "enddate": "01 jun 2026",
            "link": "https://www.dragon1.com/images/customer-journey-map-1.png"
        },
        { "class": "Process",
            "name": "Facilities",
            "id": "02",
            "domain": "02",
            "operationalcosts": "200.000 USD",
            "datastatus": "rejected",
            "owner": "Mrs. Vanderbilt",
            "documented": "Documented",
            "link": "https://www.dragon1.com/images/customer-journey-map-1.png"
        },
        { "class": "Application",
            "name": "PLATO (Procurement)",
            "id": "10",
            "domain": "05",
            "vendor": "Self Build",
            "owner": "Mrs. Zacharias",
            "platform": "Progress",
            "criticality": "Mission Critical",
            "startdate": "01 mar 2021",
            "enddate": "01 jun 2026",
            "contractenddate": "unknown",
            "annualcost": "unknown",
            "link": "https://www.dragon1.com/images/customer-journey-map-1.png"
        },
        { "class": "Model",
           "id": "01",
           "name": "Enterprise Model"           
       },
       { "class": "Relationship",
           "id": "00",
           "modelid":"01",
           "sourceclass": "Stakeholder",
           "sourceid": "04",
           "targetclass": "Process",
           "targetid": "03",
           "type": "Association",
           "text": "is owner of",
           "attribute": "owner"
       } ];


    });  // end dragon1.ready()

</script>

<div id="diagramdiv"></div>
<!-- HTML -->