TOGAF is an approach that leads to creating logical level designs and diagrams of integral solutions and strategic transformations of your organization. The challenge is to keep the design and diagrams understandable for chiefs, managers and project workers so they actually make use of these architecture products. Else the added value in our opinion is not that significant.
Use Dragon1 as online modeling tool to create understandable designs and decision supporting diagrams that also address the conceptual level.
TOGAF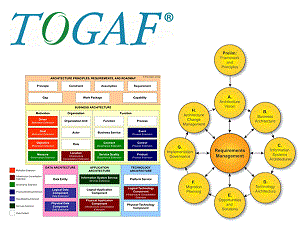 Overview
Is the TOGAF® framework always of added value? Is it really the de facto global open standard for Enterprise Architecture? Is CAUTION Needed?
On this page we are going to answer theses questions.
TOGAF is said to be an open enterprise architecture method. A what???
An open enterprise architecture method is, or should be an approach to design your strategic integral changes for your organization at a conceptual and logical level. Next to the Dragon1 open EA Method, TOGAF is one of the most used approaches. Although there is discussion about the effectivenes of this approach or framework.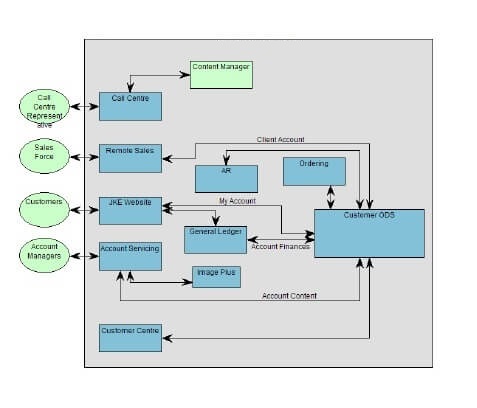 This is an example diagram showing structure and relationships between elements (stakeholders, departments, processes, services, information systems and software applications) of the organization.
This diagram is not that appealing and many chiefs and manager really do not know what to do with these kind of diagrams. They often don't even recognize their own unique company in it. On Dragon1 we say one should always add strategy and transformation data to an architecture diagram. Then a chief or a manager knows what decision he or she should take and what the benefits, costs, actions and impact are of the decisions.
Read more about TOGAFon Wikipedia.
On Dragon1 we provide information about this open EA Framework. Not because we endorse it, but because you in this way can compare it with the Dragon1 open EA method and you can make use of it (creating diagrams) on the Dragon1 online modeling and presentation platform.
This page is about the other resources on TOGAF that are available on this Dragon1 website.
What is TOGAF?
The Open Group, based in the USA and United Kingdom, says this about its own framework in English: The Open Group Architecture Framework, is a framework. It is a detailed method and it is a set of supporting tools. One can use it for designing and building an enterprise architecture. It may be used freely by any organization that wants to build an enterprise architecture to be used within the organization.
In The Netherlands they have a Dutch definition: The Open Group Architecture Framework is een methode voor het ontwikkelen en beheren van de enterprise-architectuur. Het is een open standaard en het bevat een verzameling aan technieken en best-practices. Centraal in de methode staat de Architecture Development Method.
In Germany they have a German definition: Das The Open Group Architecture Framework bietet einen Ansatz für Entwurf, Planung, Implementierung und Wartung von Unternehmensarchitekturen. Als operationelles Framework der Gruppe Government and Agency Frameworks bietet das framework mit der Architecture Development Method (ADM) ein Vorgehensmodell zur Entwicklung von technischen Architekturen.
In France they have a French definition: The Open Group Architecture Framework, est un ensemble de concepts et un standard industriel couvrant le domaine des architectures informatiques d'entreprise.
And in Spain they also have their definition in Espagnol: The Open Group Architecture Framework (o Esquema de Arquitectura del Open Group, en español) es un esquema (o marco de trabajo) de Arquitectura Empresarial que proporciona un enfoque para el diseño, planificación, implementación y gobierno de una arquitectura empresarial de información. Esta arquitectura está modelada, por lo general, en cuatro niveles o dimensiones: Negocios, Tecnología (TI), Datos y Aplicaciones. Cuenta con un conjunto de arquitecturas base que buscan facilitarle al equipo de arquitectos cómo definir el estado actual y futuro de la arquitectura.
Is it an Open Standard?
The Open Group claims their approach is an open standard.
In our opinion this label is obviously commercially driven. One can argue that it is not 100% open and not the de facto standard.
Unlike UML, SVG, XML and the Dragon1 open EA Method and other real open standards, according to the Open Group you as tool provider need to buy a TOGAF license. This could impact the tool users and their entered data if the tool provider does not have a license anymore or if the Open Group changes its policy. One can hardly call this open.
Who is the Owner?
The Open Group is the owner of the discussed EA Framework here. The Open Group is a consortium of over 200 companies.
Current Version
The current version in 2016 of the EA Framework is 9.1
ADM - Architecture Development Method
In this EA framework there is a process model called ADM, the Architecture Development Method.
You see in the figure what processes there are and which one should be executed after another.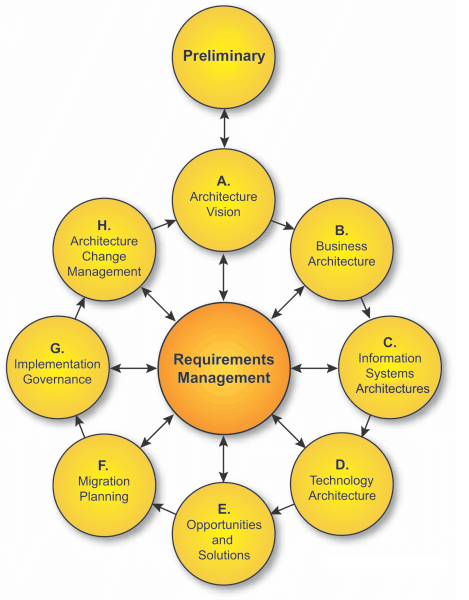 On this website we will later feature an article about TOGAF ADM. Read about it on dragon1.com/blogs
Was may seem strange is that in this process model you do not see the verb Design. For instance Design a Business Architecture for a structure or a solution. Architecture is a Design Discipline and not a consultancy discipline. So in a process model of an EA Framework one would expect Design to be an important topic.
Meta Model / Content Model
The Open EA Framework has its own meta model. That one is shown in the picture below: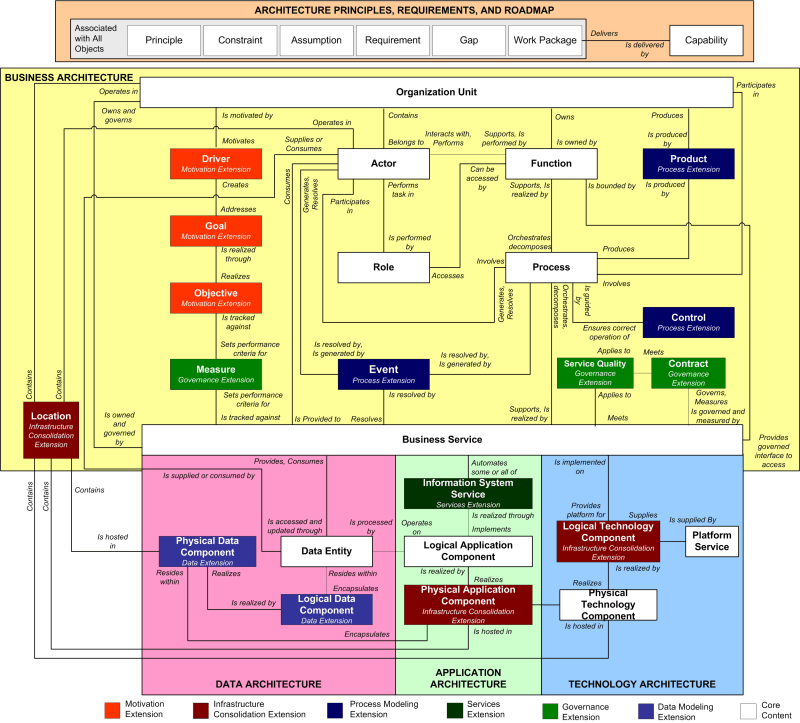 This meta model shows the entity classes that are identified and the relationship they have.
The Dragon1 open EA method states that architecture is a total concept for a structure. And that the architect is the designer of total concepts and supervisor of the realization. And for architecture, structure, concept and element we even have symbols in the Dragon1 modeling language. TOGAF does not define architecture and architect like this and does not have symbols for architecture, structure, concept and element. In our opinion using TOGAF does not lead to designing the actual architecture, but rather designing the (logical level) structures and solution. With these symbol you cannot possible design architecture.
Missing Entities
Looking from a Dragon1 perspective to this meta model we are missing at least the following important entities
Architecture
Concept
Element
Ability
Structure
Human
Activity
Dragon1 provides you with the option to use these entities in TOGAF diagrams
Beneftis of working with Enterprise Architecture
In our opinion working with Enterprise Architecture, and using any EA method or Framework, should lead to simple things like:
Standardized and less complex application landscape
Reduction of TCO
Increase of availability of information services
Better alignment of IT to the business
Standardized and more mature business processes and business services
Better quality of service towards clients and customer
More control over strategic transformation (ie. projects)
Increase of revenue
etc
If it is not measurable that an EA method or EA framework is of significant added value for these topics, the question is why to make use of the method or framework at all.
Working with TOGAF on Dragon1
Dragon1 supports the meta model of the EA Framework and thus you can create any compliant diagram on Dragon1. Also we provide ArchiMate shapes look-a-likes, so you can model what you want on diagram.
Secrets about the EA Framework
Did you know that often the ADM is not folowed correctly and that organizations creat their own version of it. Be sure to contact you relations and find out if you can get some experiences on that.
Did you know that a lot of people do not strictly use the definitions from the EA glossary, but make up their own definitions. This of course leads to alot of discussions. But it may be that some definitions in the EA Framework are just not that good.
Products
If you are using the discussed approach, you always bound create an Architecture Glossary, Architecture Repository, Yearplan, Architecture Policy, Architecture Products and Services Catalog, blueprints, landscapes and matrices.
Examples
Go to www.dragon1.com/examples to view some specific examples on this EA Framework.
Case Studies
The EA Framework contains valuable Case Studies.
The goals of The Open Group Architecture Forum is to provide a forum for customers and vendors so they can exchange feedback and experience on this EA Framework.
This feedback is the evolution of EA Framework on the Architecture Forum.
Case studies cannot provide a complete blueprint for an organization on how to use the EA Framework. Every organization us unique.
The EA framework is used at a large set of organizations in major programs of change.
NOTE: OfFten a produced insight and overview is very useful, only architecture does not have its purpose in creating insights and overview but in creating high quality designs that lead to high quality realized structures. This actually should be the goals to achieve with architecture.
The forms of the case studies differ, from MS Word documents through PowerPoint presentations, and sometimes even also video.
Training and Certification
There are many organizations that provide training and certification in this EA Framework.
The most important training and certifications are:
TOGAF 9.1 Foundation
TOGAF 9.1 Certified
EA Tools
Software on which you can create enterprise architecture diagrams are called EA Tools.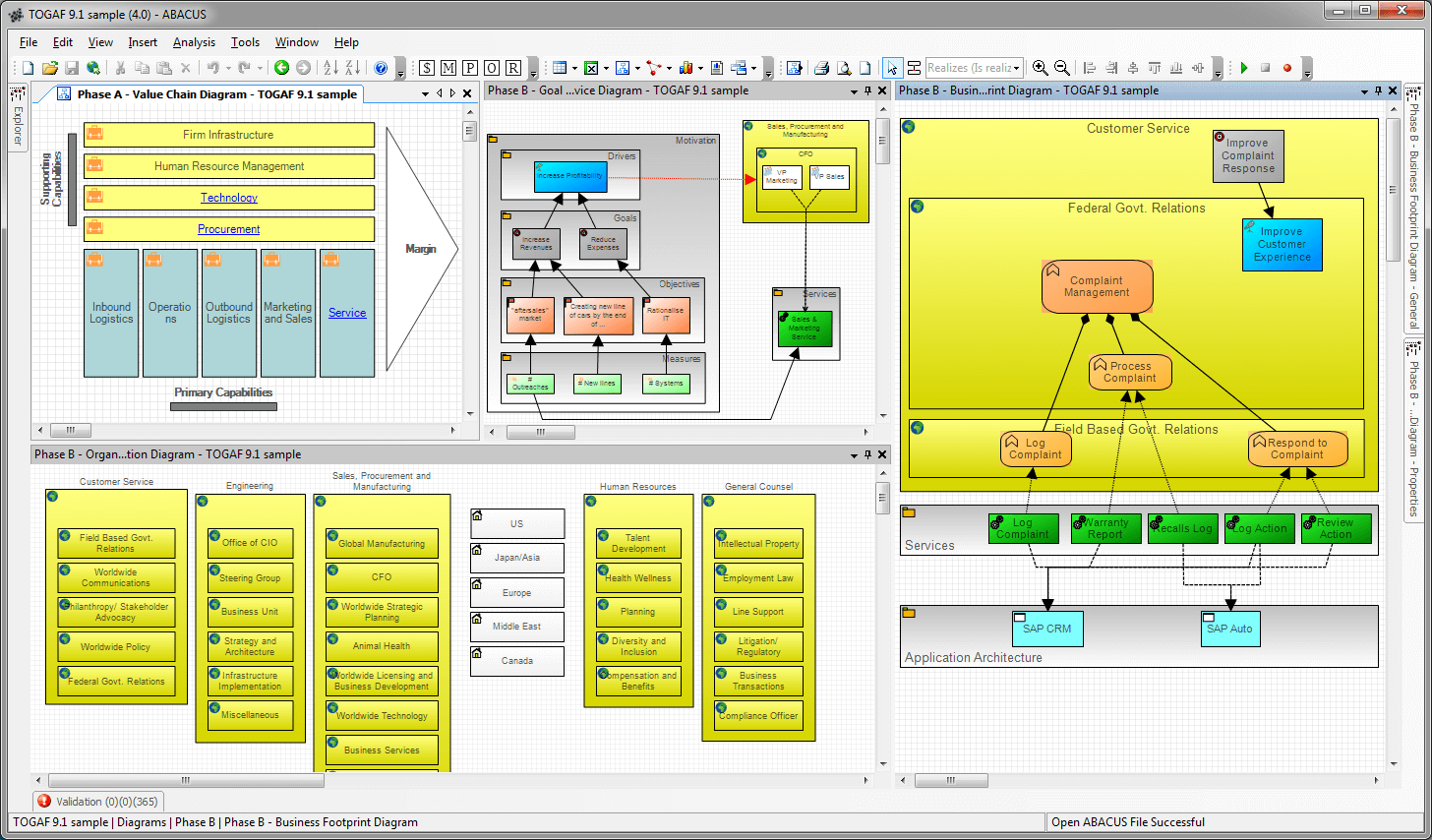 Here is an example screenshot of a 2nd generation EA Tool with common TOGAF diagrams. NB: Dragon1 is a 4th generation EA Tool.
Zachman Framework
In the 1980s Enterprise Architecture was introduced in organizations as practice to address software system complexity and poor business IT alignment.
In 1987, mr. Zachman introduced his framework for information systems architecture. This framework addressed and managed the complexity of distributed systems. The Zachman framework supports you in taking a holistic look at concerns and issues from various different perspectives.
The Zachman Framework is not really a framework, as in the sense of a methodology. Zachman is more a taxonomical set of architectural artefacts (e.g. design documents/models/specifications). Framework as words may be better reservedfor a set of principles and practices for developing and maintaining the enterprise architecture repository, as are Dragon1 open EA Method and TOGAF .
More Resources
Terms
Common terms to use in TOGAF are:
Architecture
Principle
Process
Application
TO BE CONTINUED